ITMA still getting rave reviews
-------------------------------------------------------------------
'Southern Textile News' recently reported as follows:
ITMA still getting rave reviews
Jan. 05, 2004
By Devin Steele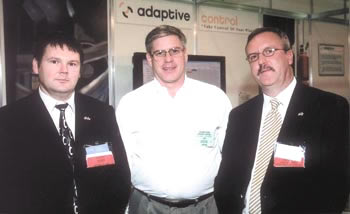 Bob Titzer (C) of National Textiles, Winston-Salem, NC, visits the Adaptive Controls booth, manned by Mike Lynch (L), company president, and Tony Webber, sales director
Photos by Devin Steele
BIRMINGHAM, ENGLAND - The International Exhibition of Textile Machinery (ITMA) trade show, staged here in October, continues to get rave reviews.Adaptive Control, with offices in Charlotte NC USA, Halifax UK, and San Salvador, El Salvador, exhibited throughout the ITMA show.
"We had a great ITMA," said Tony Webber, sales director, who is based in Charlotte. "We had arranged many appointments prior to the show and made special invitations to our American clients," he added. "These worked well and the feeling that we were there to support our American clients was interesting. I guess the fact that Adaptive Control has American and British
offices made us a great source for travel information. Several major American textile providers were given presentations at our stand."
A highlight product was the Adaptive Control APC-12, a fully integrated PC touch-screen control system with wireless technology. The wireless "hand-held" control and monitoring system was also well received, as was the "dyehouse-in-your-pocket" concept, Webber said.
The e-Plant Explorer Host system also gained attention, he added. "The simplicity of use of the control system host and the simple graphics made this a real winner," he said. "Clients want simplicity, a clear precise screen and lots of graphics. These tools can all be used to improve efficiency and productivity."
Adaptive sold its pH Sampleflo 2000, an inline pH monitoring system, off the stand. The company also was given the approval from one U.S. client that it would be continuing to retrofit two more machines at his facility early this year, Webber said.
"We also had many meetings with OEM dyeing machine makers," said Webber. "The fact that Adaptive Control is non-proprietary and we can use any open components make our system of interest on a global scale. We have established a new agent for South Africa and have an active inquiry for 12 controllers. We discussed agencies in Thailand, China, India and
Mexico."
Adaptive is a supplier of controls to Gaston County Dyeing and "this is a significant step forward for both companies," Webber said.